> L'association Atlas Expéditions se mobilise pour équiper, entretenir, convoyer et mettre à disposition sa plateforme pour des missions de recherche, d'exploration et de documentation.
> Notre objectif est de soutenir les initiatives de développement de connaissances sur le terrain, la mise en valeur et la conservation du patrimoine.
> Le fonctionnement participatif et à but non-lucratif de l'association permet de limiter les coûts opérationnels et de stimuler la réalisation de projets.
ATLAS est un navire unique, construit selon les normes les plus strictes de l'industrie navale hollandaise. Ses spécifications de construction sont particulièrement bien adaptées aux conditions de travail exigeantes des régions arctiques.
Le principal avantage de cette unité est le sentiment de sécurité et la flexibilité qu'elle procure, l'abri offert par le poste de pilotage et sa capacité à opérer confortablement aussi bien en haute mer qu'en navigation côtière, entre les îlots et à travers les fjords arctiques.
L'équipage et les chercheurs partagent des espaces limités mais multifonctionnels et répartis sur plusieurs niveaux. Avec une vue à 360° sur l'océan et une position centrale, la timonerie est le principal poste de pilotage et de veille. Elle abrite les instruments de navigation, les panneaux de contrôle hydraulique, un poste de travail dédié aux données, un fauteuil confortable et une couchette. Le toit de la cabine de pilotage offre également un poste d'observation intéressant dans des conditions stables.

Par quelques marches depuis le poste de pilotage, on descend à la cuisine, en coursive, et au salon, qui est un espace de travail et de convivialité pendant la journée et se transforme en un confortable lieu de repos pour la nuit (deux couchettes).

Au mouillage, le crépitement d'un feu dans le poêle à bois, après une longue journée de travail, donne l'impression d'un confortable refuge de montagne !

La cabine avant est défendue par une solide porte étanche et offre un espace toilette, un second lavabo avec eau chaude, l'armoire à pharmacie, un rangement pour les vêtements et deux couchettes supplémentaires dans un lit breton.
Chaque membre d'équipage se voit attribuer son espace de rangement personnel et trouve la couchette qui lui convient le mieux.

Le pont est intégralement en inox, solide, clair, antidérapant et très bien sécurisé par un haut garde-corps continu en acier inoxydable. Le cockpit (à l'arrière) est également très sûr et offre un bon abri contre le vent et les embruns.

Le compartiment moteur et les systèmes de bord sont situés au centre du bateau (sous le poste de pilotage), tandis que le compartiment arrière est entièrement dédié au stockage.
La participation, la flexibilité, le respect des routines essentielles de vie (cuisine, hygiène, sommeil) et de sécurité sont attendus de chacun. Comme dans une station spatiale, l'organisation, la bonne humeur et la pro-activité sont les facteurs clés de la réussite d'une mission !
Officiel
Vessel ID
ATLAS
Flag
Switzerland
Home port
Basilea - CH
Register n°
6217
Call Sign
HBY 4987
MMSI
269 109 120
Engine type / n°
Volvo MD50A / 05223467
Insurances
Allianz - Murette AG CCS, 3000 Bern 6, Schweiz
Ref. 57.59'499 / 02524 - Zone C, D, Arctic waters
RC: CHF 8 Mio.
Passengers: 6
Skipper
Arnaud Conne
Licence type / n°
ICC - Offshore / C-19843-1
Radio certification / n°
LRC - Long Range Certificate / 912832
Specifications techniques
Architect / design n°
Dick Koopmans / 228
Vessel type
Sailing vessel - Long keel, heavy displacement pilothouse ketch
Class / capability
Class A / Offshore and arctic waters
Material (hull)
Steel 7, 6 mm (to the waterline) and 5 mm (topsides)
Material (deck & superstructure)
Stainless steel
Displacement
19 t
Engine
6 cylinder - 75 Hp - Volvo MD50A
Propeller
Fixed 3 bladed, ∅ 72cm
Spare 4 bladed, ∅ 50cm
Inline propeller shaft ∅ 50 mm
Fuel capacity / Range
600 L + 50 L / 700 nm
Consumption
4.2 L/h @ 6.0 kn / 1200 rpm
Speed (motoring)
Cruising 6.2 kn - Idle 2.8 kn - Full throttle 8.5 kn
Speed (sailing)
Max 7.2 kn, average 5.5 kn
Length
12.7 m - 43 ft
Beam
3.8 m - 12.5 ft
Draft
1.9 m - 6.3 ft
Sail surface (upwind)
75 m2
N° of masts
2
Données opérationnelles
Service power
11kW service battery bank (460Ah 24V)
24V, 12V, 5V (usb) DC network
230V/1200W AC power inverter (EURO standard plugs)
Service power supply
2 dedicated engine alternators, wind generator, solar panels
Workstations
1 Dedicated workstation for data collection in the pilothouse (standing)
1 Lenovo X1 laptop (navigation, chart & weather analysis)
2 Lenovo 24V to USBC 65W power adapters
Fixed server (Apple) for secure extensive data storage and backups
Tools
Comprehensive workshop toolset and spare parts onboard
Deployment poles
1 heavy duty + 1 light spinnaker pole
Deployment lines
1x120m 9mm nylon
Lifting
Main boom as crane for heavy gear (~200kg static)
Hydraulic power
Engine driven LINDE MPR 43 hydraulic pump
Hydraulic winches
2 x LEMAR 56 ST Hydraulic or manual operation
Suitable for operation of any textile line from ∅ 9-14mm
Sea water deck pump
High flow sea water pump - deck fittings for fire or cleaning hoses
Freshwater deck pump
To rince equipments, shower, hot water available
Anchor
75m - ∅ 10mm stainless steel chain
35kg Bruce (main), 35kg Stock anchor (spare), 15kg Stern anchor
Anchor winch
Vertical hydraulic - Deck or pilothouse operated
Mooring lines
4x16m 20mm nylon
1x100m 20mm nylon (towing line)
2x110m 16mm polypropylene (floating line)
Tender (zodiac)
3D Tender XPro 320 3.2m
Tubes ∅ 42cm
Flat aluminum floor, 8Hp outbord engine (3.5Hp spare)
Load capacitiy 600kg (incl. crew)
Max speed 14kn
Range 5nm
Air compressor
Bauer Junior II - Breathing air conforming to DIN EN 12021
Air cylinders
2x15L - 2x6L 230 bar
Storage
Stern locker 1m3/~300kg (non insulated, average sea temperature)
2 aluminium cases 830x490x490mm ~200kg (on deck)
Communication / Navigation / Sécurité
VHF
1 fixed, 2 handheld ASN
Satellite communications
Iridium GO (Weather, oceanographic, ice forecats, phone, data, email)
Garmin InReach (Backup GPS positioning, PLB)
GPS
Fixed multi-constellation antennas, multiple backup devices
Chart plotter
Lenovo X1 / OpenCPN / Navionics
AIS
Class B AIS transponder
RADAR
Raytheon R40X
EPIRB
OCEAN SIGNAL RESCUE ME - 269109120
Lifejackets
6 x 275N SECUMAR SCOUT + Life lines
Liferaft
ARIMAR Offshore 6 persons
Flares
SOLAS standards
Watertight compartments
4 steel wall separated compartments, watertight bow cabin
Bilge pumps
High flow hydraulic pump, engine driven, manual override
4 dedicated pumping points in: bow, saloon, engine room and stern.
Habitabilité
Capacity
Max 5 p. total overnight in remote areas incl. captain and 1st mate
Berths
Single berth "Lobster Cave" in the pilothouse (1)
Single berth "Watchman" in the saloon (2)
Double berth "Fireplace" in the saloon (3)
Double berth "Bretagne" in the bow cabin (4)
Private cabin
No
Galley (kitchen)
Pressurised fresh water, hot water, sea water pump, sink, fridge (60L),
3 burner propane stove, oven
Shower
Hot shower on deck (Even in the arctic regions it is a pleasure!)
Head / toilet
1 in bow cabin
Heater
Diesel heater (8kW) - 5 radiators
Wood stove
Wood or coal stove (4kW) in the saloon
Hot water
Yes, from engine and central heating
Fresh water
500L in two stainless steel tanks
Fresh water production
ECHOTECH Desalinator / 50L per hour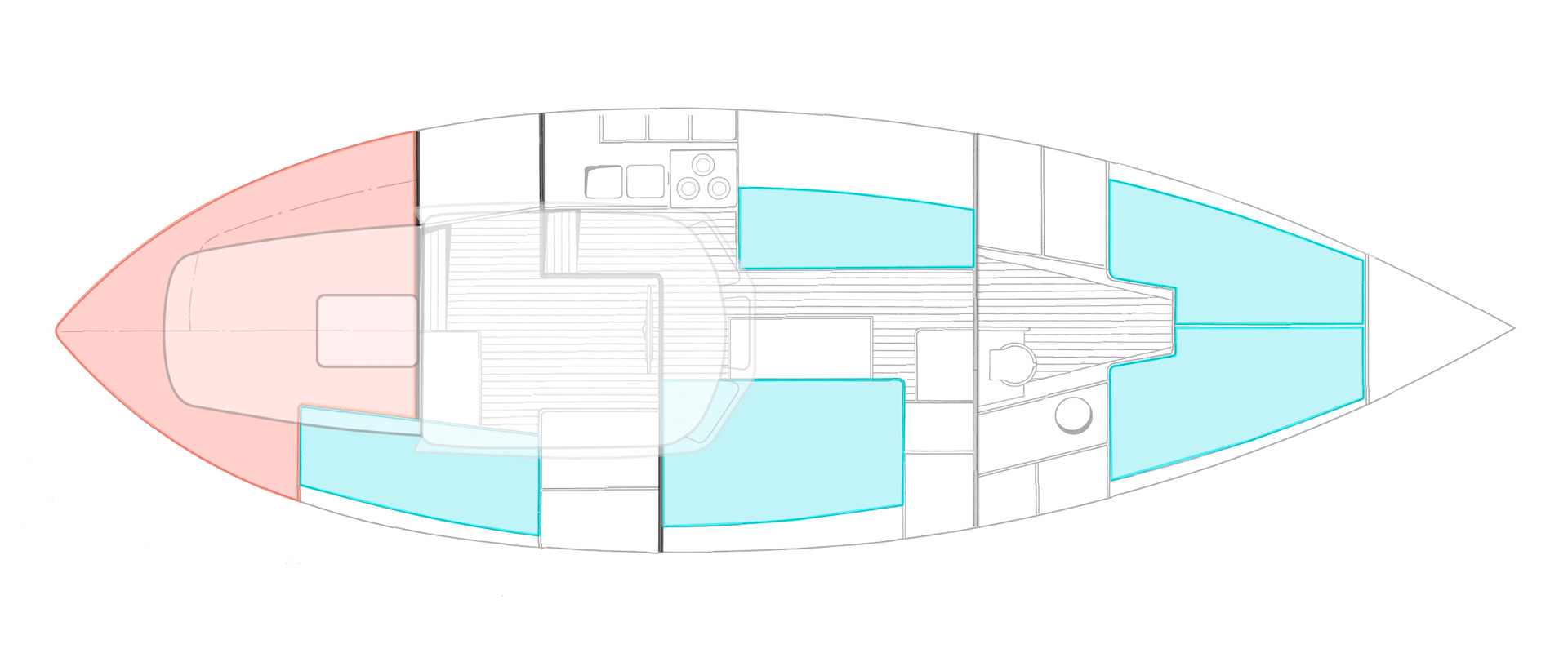 Informations générales, Roman Hapka, president: +41 (0)79 601 76 64
Informations techniques, planification et média, Arnaud Conne, skipper: +41(0)76 679 55 30